Details of Ski Resorts in Ost Tirol Region of Austria
Lienz
There are two separate ski areas on the edge of the city of Lienz; Zettersfeld and Hochstein with 12 lifts between them. Both are lovely areas.
Hochstein is the smaller ski area and has 16km of ski-ing. At Hochstein there are 3 lifts taking you up to a heigh of 2057 metres. Its usually fairly quiet with some good ski-ing and great views from the top. If you are prepared to walk a little from the top of the drag lift, there is a fantastic restaurant with amazing panorama views.
There is also the Osttirodler at Hochstein, a thrilling alpine coaster ride down the mountain.
Zettersfeld is on the north Lienz and a bubble takes you up to the main ski area where there are 5 chair lifts. The runs are wide and open and there are some lovely restaurants on the mountain. There is a small chair and run down at the bottom on the edge of the city but you would need very good snow conditions for this to be useable. We love this ski area, its small (ish), friendly and fantastic for a day cruising around.
The village of Leisach, just own the road from Hochstein, on the way to Sillian, also has one chair lift and run.
More information at the official website for Lienz ski area.
Sillian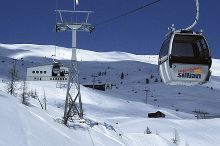 There are two ways up the mountain, a bubble from right on the edge of town and a chair lift from a little further up the valley. The bubble takes you to a restaurantand the nursery slopes and there is a small drag, an old chair lift and another modern [heated] chair lift, with another restaurant at the bottom. The runs are fairly wide and the run down is pretty long. Loads of parking at the bottom of the bubble. The height of the ski-ing is about 2400 metres and there are around 40km of ski-ing. Good ski making facilities. More details here.
Golzentipp – Obertilliacher
This very small ski area is quite high with most of the ski-ing over 2000 metres. There are 5 lifts; a bubble to take you up to the ski area and then 4 drag lifts. However, unless you are based in Sillian or around Lienz, its a long drive, either a long a wiggly (if scenic) road from Kotschach or along the valley to Lienz and then around the mountain. We visited on a drive out but did not ski there. There are 13 km in total.
Dorfberg/Kartitsch
This tiny little ski area has 2 drag lifts and is not very high. It is just opposite Sillian at the village of St Oswald. There are just 4km of runs and mainly for families and beginners. We did not ski here.
Großglockner-Resort Kals / Matrei
This ski area lies in the Grossglockner region and has 37 kilometres of pistes, making it the largest in East Tyrol. Modern chair lifts take you up to nearly 2,500 metres above sea-level. There are 16 lifts in total split over the mountain with Kals on one side and Matrei on the other. Matrei is accessed either from Kitzbuhel through a tunnel and is about a hour's drive or is about 20 minutes north west of Lienz. Kals is around half an hour from Lienz. The official website for the ski area is
here
.
We drove to Matrei, where there was ample parking at the bottom of the gondola, which goes from the edge of town. There was a little bar at the bottom of the lift. The gondola takes you up to where there are a couple of small drags and beginner runs and two chair-lifts. We were there in April ski-ing so the snow was a bit patchy but it was really good ski-ing and some nice piste-side restaurants.
You can ski down to catch the chair up to the top at just over 2600 metres and from there go over the other side down towards the village of Kals. There are a couple of itinerary runs and a black down this side but only the main red was open due to lack of snow. This runs into a blue that takes you into the village, where there are a couple of drags and nursery slopes and then you can ski a track down past the houses and cows in barns to catch a chair up to further red and black runs. The higher chair was closed unfortunately but when there is better snow cover, this would be a fantastic ski area.
Bergbahnen St. Jakob im Defereggental Mountain Lifts
The Brunnalm ski area is 1km from St Jakob. There are 7 lifts, serving 17km of pistes. On one exploration trip we did start to drive there but decided to turn round half way along as it is a long winding road along a narrow dark valley to get there from the Lienz to Matrei road.
Very small ski area with just 2 lifts and 2km of runs. You turn west at Matrei and follow the road along the valley to the small ski area at the end of the road. We have not skied here but did drive there to have a look and looked a lovely little place for families and beginners. Nice village. Not much parking at bottom of ski area though. Not part of the Top Ski Pass.
————————————————————————————————————-
skiing holiday Austria, ski-ing holidays Austria, snowboarding in Austria, skiing in Austria, ski Austria, Austria skiing, East Tyrol, East Tirol, Lienz, Sillian, Matrei, Austria chalet holidays, ski chalets in Austria, Austria ski rentals, Austrian holiday lets, self catering holiday Austria, self catering holidays Austria,