VITOSHA MOUNTAIN
Situated just 22km from the centre of Sofia, Vitosha is actually one of the highest ski areas in Bulgaria at over 2,200 metres. There are 13 ski runs and access is either from a new gondola on the edge of the city (some parking but not a vast amount) or from an old chair lift in a village just outside the city limits.
The area around the ski resort of Vitosha is very expensive and many of the wealthier Bulgarians who work in the city own property here. There have been some new developments built at the base of the gondola and new hotels opened up.
SMALLER SKI AREAS
Osogovo
Osogovo is a small ski area, known for its snow park, 15km from the western town of Kustendil and on the Macedonian border. This area gets quite severe winter weather and so tends to have good snow coverage.
We drove up to the ski centre in the summer and it was a very long drive up the mountain and not one I would want to do in bad weather and snowy conditions. At the top there were a couple of newer hotels and the odd restaurant.
There is one main ski piste with a drag lift (free for kids) and this is at around 1800 metres above sea level. It is meant to be for more advanced skiers. There is another intermediate piste which is a little longer and then a shorter run for beginners.
Osogovo is mainly known for its fun park for snowboarders. There is a Facebook page for this and a youtube channel.
Buzludzha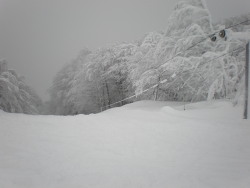 Buzludzha is a small ski area in the Balkans, just up from Kazanlak. There is no direct access from down in the valley and you have to drive to the top (4 wheel drive or snow chains advised in winter). There you will find 2 poma lifts and a couple of smaller drag lifts with 2 or 3 main runs and maybe a couple of kilometres of pistes. The area is really for locals to pop up to on a weekend to get in a little skiing but it is a quiet place with a couple of hotels (one recently renovated and one not) and a basic hostel with dormitory style beds. The hotels are around 25 levs a night (13 Euros) and the hostel was 10 levs a bed (5 Euros) with cooking facilities and proper bathrooms. The area opens fully (depending on snow) just before Christmas and is quiet during the week but can get busier Sunday afternoons. Lovely place in the summer also for walks and cycling.
Uzana
Located on the north side of Balkans, not far from Gabrovo, this is a small ski area, with a few hostels and the odd hotel. I visited this small ski area at New Year 2007/2008 and was sorely disappointed. At that time it was really just a collection of old run down hostels and a couple of newer hotels, all very spread out and up single lane, icey roads. It seemed to take an age of driving up a windy, snowy and icey road from Gabrovo (about 15 to 20km) to reach the 'resort'. Each hostel or hotel had a small drag lift near it and this is the extent of the ski area. The runs are all very spread out and are short and there are 6 or so of them. You cannot ski or really walk from one to another. There was a longer run with a rope tow but how to access this run was not very apparent and we simply past it on the road up. I cannot comment on the hire 'shops' as we did not bother to ski or snowboard but to use one small drag lift was 7 levs for the day (no discounts for half days) and the lift was not really manned or supervised.
However, after this years (2017) good snow fall, a few people I know have visited Uzana and said it was great for a day's ski-ing or boarding. When the weather is better than my last visit, the setting is apparently stunning with lots of short run's. Its popular with cross country skiers and snow mobiles , there are quite a few local hotels and now good access all year. It is very much for beginners and great for learning or to get a cheap ski fix at just 10 levs a day. There are only a few hundred mtrs of pistes with 3 runs which are linked giving approximately a km in total with a short black run, the rest are green.
There are 8 runs in total but all the tows are owned by different people so have to pay for each one separately and fairly spread out.
There is also another very small ski area at Elena, not far from Veliko Turnovo (not pictured).
Lake Batak (Tsigov chark)
Another small ski area mainly used by Bulgarians and suitable really for beginners and boarders. There was meant to be some development going on in this area, including a new hotel with its own private ski runs, but generally not much is ever heard about it.
Others
There are a number of other ski areas around Bulgaria, mainly in the Rila mountains. 17km from Belitsa you will find Semkovo with 7 runs (around 4km in total) serviced by 8 drag lifts and fairly developed tourism for a small ski area. Panichishte has around 5 runs and is on the edge of the Rila National Park.
On the north of the Balkans, Berkovitsa 89km from Sofia currently only has a couple of drag lifts and Parshevitsa is 25km from Vratsa and has one run.